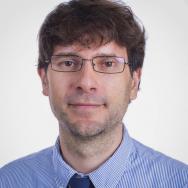 Alessandro RIBONI
Professeur, Ecole Polytechnique.
Chercheur  du CREST (Centre de Recherche en Économie et Statistique), Paris
Titres et diplômes
Doctorat en sciences économiques à l`University of Rochester (NY), Etats Unis.  Sujet : « Essays on Political Economy»
Publications
Publications dans des supports internationaux, comme par exemple le Quarterly Journal of Economics; Journal of Monetary Economics, International Economic Review, Journal of Money Credit and Banking et Economic Theory.
Centres d'intérêt
Droit et économie,  Economie politique, Economie des institutions, Macroéconomie, Economie politique des banques centrales.