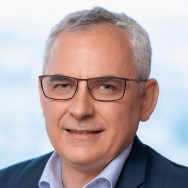 Benoît Loutrel
Member of the College, ARCOM
A graduate of the Ecole Polytechnique, ENSAE and the Toulouse University of Social Sciences, Benoît Loutrel is an economic engineer specialising in industrial economics, economic development, digital transformation and regulatory economics.
After working at the Institut National de la Statistique et des Études Économiques (INSEE) as an environmental economics researcher in 1993, Benoît Loutrel was appointed technical adviser to the Executive Director representing France at the World Bank in Washington in 1996. In 1999, he was appointed chargé d'affaires and head of the European office (in Paris) of the infrastructure department of the International Finance Corporation, a subsidiary of the World Bank Group, a position he held until 2003.
In 2004, he joined the Autorité de régulation des communications électroniques et des Postes (Arcep), where he was director of fixed and mobile market regulation, then deputy director general. From 2010 to 2013, he was director of the "development of the digital economy" programme of the "Investments for the Future" programme, working for the General Commissioner for Investment. From 2013 to 2016, Benoît Loutrel was Director General of Arcep. In 2017, Benoît Loutrel was Director of Institutional Relations and Public Policy at Google France. From 2018 to 2020, he carried out a number of missions within the General Inspectorate of INSEE, including acting as general rapporteur for the interministerial mission on the regulation of social networks.
Benoît Loutrel joined the Conseil supérieur de l'audiovisuel in February 2021. He chairs Arcom's "Supervision of online platforms" working group. He is also vice-chairman of the "Television, SMAD, distribution and digital uses" working group.