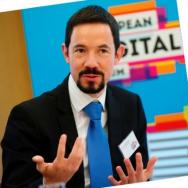 Pierre Chastanet
Directeur de l'unité Cloud & Logiciels, DG Connect - Commission Européen
Pierre Chastanet est chef de l'unité "Cloud et logiciels" à la Commission européenne et supervise l'élaboration et la mise en œuvre des politiques européennes en matière de cloud et de libre circulation des données.
M. Chastanet travaille depuis 14 ans à la Commission européenne dans le cadre de diverses missions de gestion et d'élaboration de politiques, dans les domaines de la cybersécurité, de la vie privée numérique, des TIC pour les défis sociétaux, des TIC vertes et de l'innovation dans les télécommunications.
M. Chastanet a plus de 10 ans d'expérience dans le domaine des TIC, principalement à divers postes de gestion informatique dans une grande entreprise multinationale.
Il est titulaire d'un MSc en ingénierie des télécommunications de Telecom ParisTech, d'un M.A. en politique internationale de l'Université libre de Bruxelles (ULB) et d'un BSc en économie de la London School of Economics and Political Science.