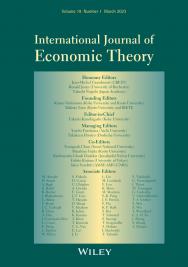 | | |
| --- | --- |
| Author(s) | Surjasama Lahiri |
| Publication type | Research Paper |
| Reference | International Journal of Economic Theory, 15 mars 2023 |
We analyze the effect that the presence of a standard-setting organization (SSO) has on firms' choices of product quality and costly research and development (R&D) investment when consumers face uncertainty regarding product standardization. We construct a theoretical model with competing firms and compare frameworks where: an SSO is exogenously absent and an SSO is present. Our first finding is a negative relationship between firms' product-quality choices and R&D investment. The presence of the SSO standardizes quality which can be profitable for firms. Finally, we find conditions where the presence of an SSO could lead to welfare enhancement.