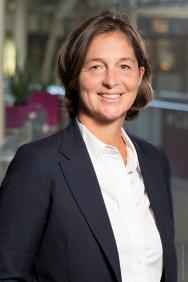 Caroline Chabrol
Project Director for International Development, SNCF Mobilités
Graduated of the Ecole Supérieure de Commerce de Paris and the Institut d'Etudes Politiques de Paris, Caroline Chabrol has more than 20 years' experience in the railway sector.
She began her career from 1995 to 2002 as a specialised consultant in the management of national and local public services. She accompanied the implementation of numerous public service delegations alongside the State, local authorities and public establishments in the port, airport, road, sanitation and school catering sectors.
She joined the SNCF in 2002 to manage the development and widespread implementation of the first regional passenger transport agreements with the new regional organising authorities, under the SRU law of December 2000. Then, she held various positions within SNCF Voyageurs, as contract Director des Trains d'Equilibre du Territoire, then Marketing Director for Intercity trains. She has been in charge of international projects within the TGV Intercités Europe Division since 2019, and in particular led the creation of the new OUIGO offer in Spain.